Companies Act 2014
SCHEDULE 12
FORM OF CONSTITUTION OF PUBLIC UNLIMITED COMPANY HAVING A SHARE CAPITAL
CONSTITUTION
OF
[name of company as below]
MEMORANDUM OF ASSOCIATION
1. The name of the company is: ALL BREEDS DOG CARE UNLIMITED COMPANY.
2. The company is a public unlimited company having a share capital, registered under Part 19 of the Companies Act 2014.
3. The objects for which the company is established are the provision of general care, kennelling and grooming services in respect of all breeds of dog and the doing of all such other things as are incidental or conducive to the attainment of the above object.
4. The share capital of the company is €400,000, divided into 200,000 shares of €2 each.
5. The liability of the members is unlimited.
ARTICLES OF ASSOCIATION
The following Regulations shall apply to the company:
[or, instead of the immediately foregoing words, the following sentence:-*]
The provisions of the Companies Act 2014 are adopted.
*See section 1235(5)
We, the several persons whose names and addresses are subscribed, wish to be formed into a company in pursuance of this constitution, and we agree to take the number of shares in the capital of the company set opposite our respective names.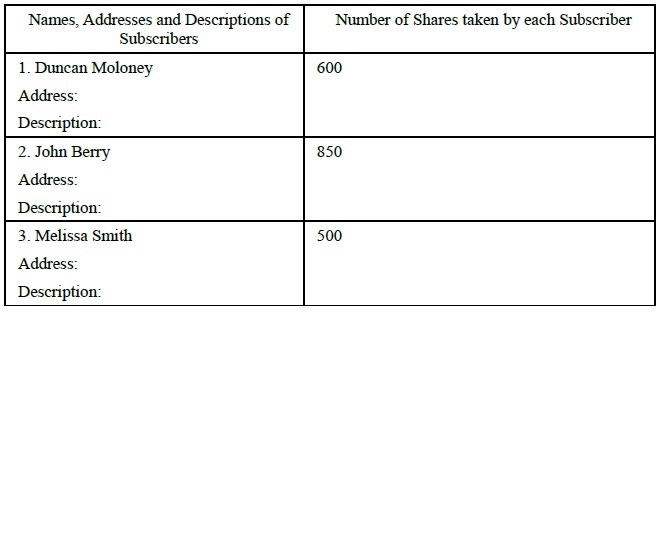 As appropriate:
signature in writing of the above subscribers, attested by witness as provided for below; or
authentication in the manner referred to in section 888.
Dated the ____ day of _____________ 20__
Witness to the above Signatures:
Name: ______________________________________________________
Address: ___________________________________________________