Companies Act 2014
184
184. An instrument appointing a proxy shall be in the following form or a form as near to it as circumstances permit—
[name of company] ("the Company")
[name of member] ("the Member") of [address of member] being a member of the Company hereby appoint/s [name and address of proxy] or failing him or her
[name and address of alternative proxy] as the proxy of the Member to attend, speak F63[, vote and to demand or join in demanding a poll] for the Member on behalf of the Member at the (annual or extraordinary, as the case may be) general meeting of the Company to be held on the [date of meeting] and at any adjournment of the meeting.
The proxy is to vote as follows: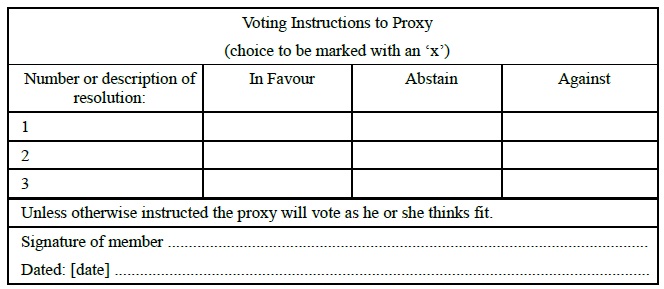 Annotations
Amendments:
F63
Substituted (6.07.2022) by Companies (Corporate Enforcement Authority) Act 2021 (48/2021), s. 28, S.I. No. 335 of 2022.